A classic Italian soft fried dough filled with rich and creamy custard. They are simply irresistible.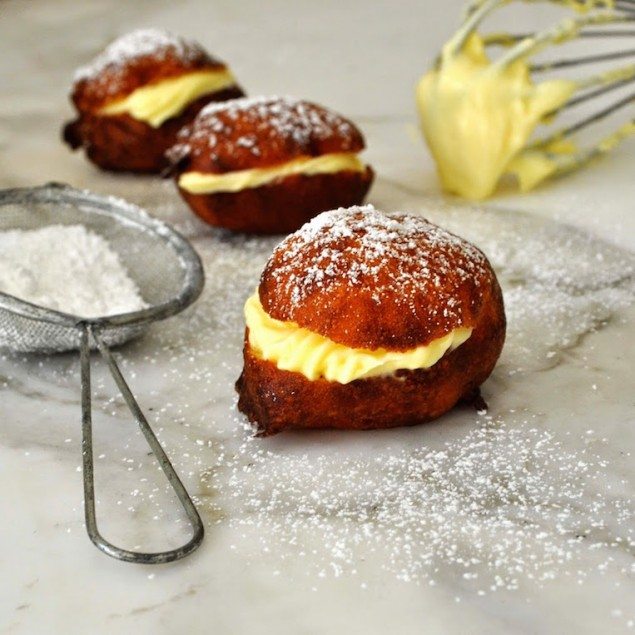 Italy is the birthplace of the Carnevale, which makes February a fun time to visit, especially Venezia. You'd be amazed by the stunning masks and world famous costumes, the street parades and all-day parties. If you were in Venice right now, walking along the canals and down the calli, you would be for sure enticed by the aroma of fried dough coming out of every pasticceria. And, believe me, it can't be ignored!
Frittelle are fried round doughnuts, that generally come in three varieties: Veneziane (with raisins and pinenuts), filled with zabaione cream or crema pasticcera. My favorite, as you might have guessed, are the last one. Soft and perfectly sweet. Light and fluffy. Made with simple ingredients. Deep fried and filled with a deliciously rich custard. Heavenly!
See Also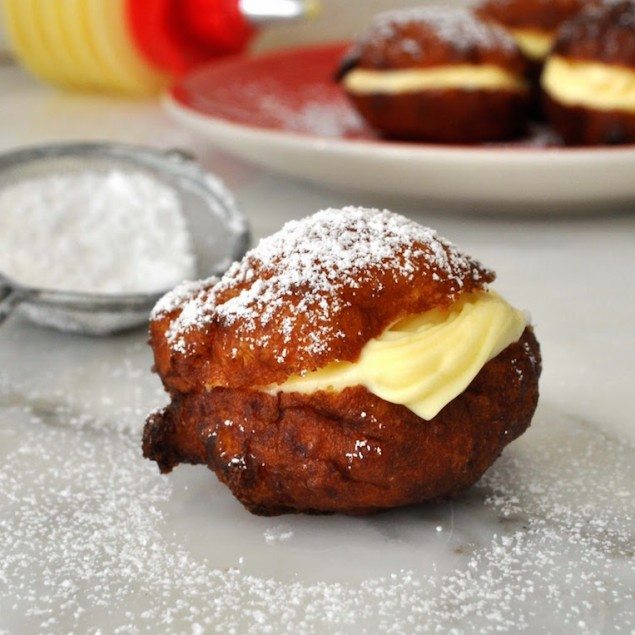 Print
---
Yield:

0

makes about

40

small frittelle

1

x
16

fl oz (

500

ml of milk)

3/4 cup

125 gr semolina flour

3

eggs

1/2 cup

100 gr of sugar

1 cup

150 gr of all-purpose flour

1 tablespoon

15 gr of baking powder

1

pinch of salt

1

large organic orange (zest)
oil for deep frying
powder sugar for decoration

2 oz

60 ml whipping cream (optional)
For the custard cream:
8

fl oz (

240

ml of milk)

2

fl oz (

60

ml of heavy whipping cream)

1 teaspoon

of vanilla extract

3

egg yolks

1/3 cups

65 gr of sugar

3 tablespoons

30 gr of corn starch
---
Instructions
Warm the milk in a large pan. Before it boils, add the semolina flour and whisk until smooth. Cook over medium heat for about 5 minutes, stirring often, until it starts to detach from the sides of pan. Remove from the heat and let it cool down.
Add the eggs, flour, sugar, baking powder, and salt. Mix well, until smooth again.
Add the orange zest, finely grated. And whisk again. Let the batter rest for about half an hour, or until you prepare the custard cream.
Prepare a custard cream following the link above. Let it cool completely and place in the refrigerator.
Heat the oil in a large enough pan. Note: it's better if the oil fills no more than half of the pan.
Drop spoonfuls of batter in the oil and fry until golden brown. Make sure you don't fry too many frittelle at the same time. They need space to cook, and turn around. Remove from the oil and place on paper towel to drain the excess oil. Check the first fritter and make sure it's fully cooked inside. If not, lower the flame and cook for a little longer. Let the frittelle cool down. If you would like to make your custard cream a little softer, whip 2 oz of whipping cream and add to the custard cream. Mix well, until smooth.
When ready to eat them, cut the frittelle in half and fill with the cream.
Sprinkle with powder sugar and enjoy!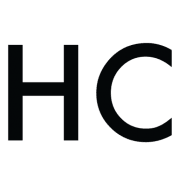 Manuela Mazzocco
Born and raised in Venice, Italy, Manuela now lives with her husband and two children in Los Angeles, California. In her blog, Cooking with Manuela, she strives to share her passion for Italian food. As a mom of two young boys, most of her dinner preparations are done while checking homework, quizzing for science tests, and looking for Lego pieces. Her step-by-step recipes help readers create delicious food while on a busy schedule. There is nothing as special as ending your day with your family or friends sharing a good conversation and a tasty homemade meal.