Dennis Huwaë is the mastermind behind Daalder, an eclectic, upbeat and contemporary restaurant nestled in the vibrant heart of Amsterdam that mirrors the city's dynamic spirit.
Pulsating music, neon lights and urban street art warmly embrace patrons, transforming the space into an ambiance akin to a nightlife haven, all in front of an open kitchen where the seemingly quiet chef crafts culinary masterpieces that have garnered him a Michelin star. Daalder, like Dennis himself, is all about contrasts.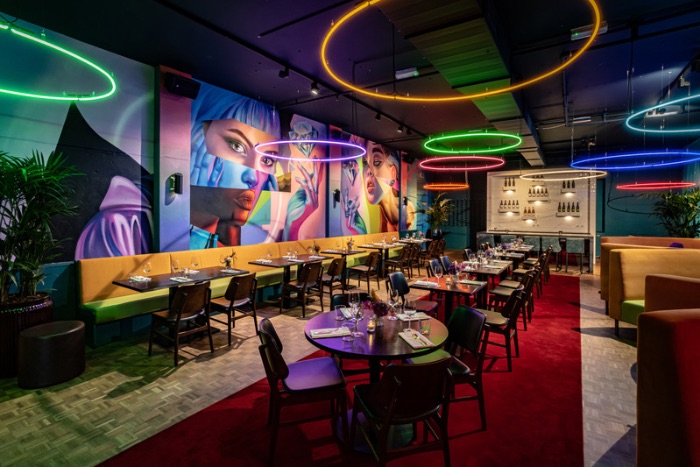 Does art imitate life or is it the other way around? There are different ideas about this. Aristoteles believed in the mimesis philosophical position, where art is believed to be a faithful imitation of natural ideas. Oscar Wilde contrasted those beliefs and supported the opposite philosophy, saying that "Life imitates Art far more than Art imitates Life". According to Wilde and his essay The Decay of Lying, it's through the artist's expressions that we create our own ideas of what life is – and after meeting Dennis Huwaë and going to his explosive restaurant in Amsterdam, Daalder, I'd say that Wilde had a great point.
Huwaë is a quiet and reserved guy. He observes, analyses, thinks and creates. He cooks. But in contrast to his personality, when guests enter Daalder, they are punched with colour, lights, shapes, music and aromas that show his clear intentions: to take you on a sensory journey. Through this concept, Dennis would make any guest believe that he's a loud and thunderous character, but he isn't. Through his art, he creates a reality that might not be what is really there. The contrast of it all.
His achievements are impressive and include being named the Most Promising Chef from Gault & Millau in 2018, receiving a Michelin star just two years after opening and ranking as #64 in the Top 100 of The Best Chef Awards in 2021. Now he's getting ready to embark on an adventure as he takes his restaurant to Copenhagen, one of the food capitals of the world, for a three-week residency at the legendary Tivoli Gardens, and for him, it is just the beginning. Here's the story of Dennis Huwaë.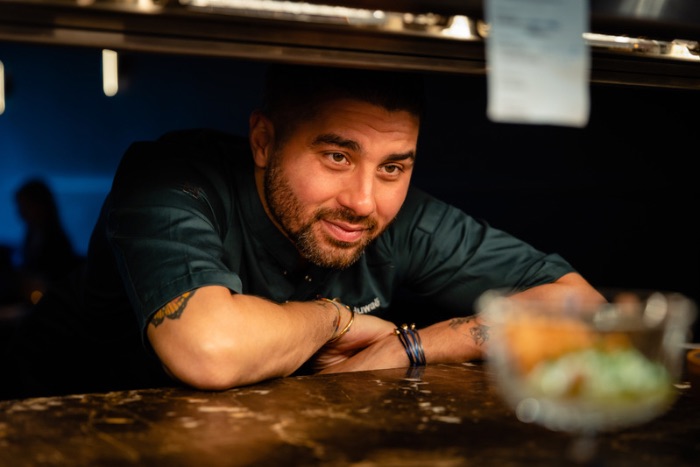 A Kid That Couldn't Eat
Dennis Huwaë's passion for food comes from his family. His father, also a chef, was born in the Netherlands, and his grandmother in the volcanic Moluccan Islands in Indonesia – once a Dutch colony. Dennis grew up in Amsterdam, surrounded by abundant and exotic feasts prepared by his grandmother where she mixed local ingredients, Dutch recipes and her roots from Southeast Asia. But growing up in a food-centric family presented a unique challenge for young Dennis.
He couldn't eat anything due to his severe allergies and asthma. He couldn't get near the family's Moluccan influenced feasts. He could only enjoy the tantalizing aromas and observe. He could only watch others indulge while usually settling for a humble cheese sandwich. These years of contemplation left an enduring imprint on him, profoundly shaping his culinary journey and instilling a profound appreciation and reverence for the world of food and flavor. And when he could finally try all these wonderful ingredients and preparations later in life, he went in hard.
"I wasn't able to eat almost anything as a child, and by the time I turned eleven I finally could, little by little. It just sparked my interest in food. I was so used to seeing everybody enjoying my grandma's food without being able to taste anything", explains Dennis. By the age of fourteen, he was already lending a hand to his father in a restaurant kitchen, and at just sixteen, he made the resolute choice to pursue a career as a chef, aiming to become one of the best in his craft.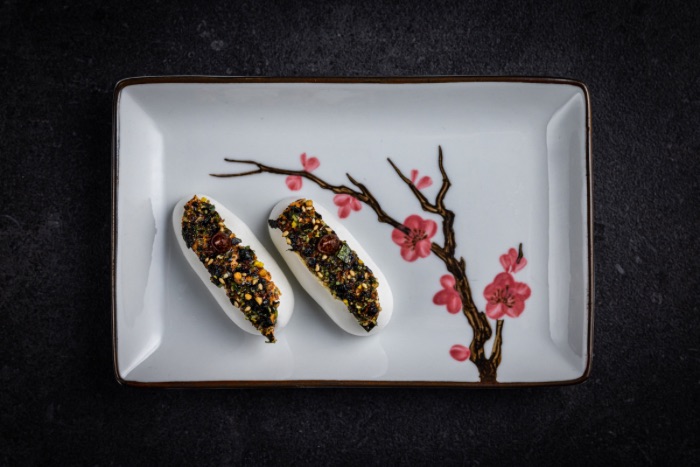 Becoming A Chef
When Dennis made the decision to make a career out of his passion for food and to become a chef, he began to train and study. He spent a total of eight years in different culinary schools and training programs, combining them with stages and jobs in hotels and restaurants. He went through all of it: front of house, breakfast, banqueting, pastry… basically all of the stations. And unlike a lot of young chefs nowadays, he did it all in the Netherlands before even thinking about going abroad to cook.
He worked for a little less than two decades in incredible places, with superb chefs. Kitchens like Ciel Bleu** in Amsterdam, The Fat Duck*** in London and Brouwerskolkje** in Overveen gave him the knowledge and understanding of the business he needed. And chefs like Moshik Roth from SamhoudPlaces**, also in Amsterdam, simply became almost a part of his family, sharing and cooking all over the world. From a frozen lake in Switzerland, to cooking shows in Israel. From Kuala Lumpur to Germany to the Olympic Games in London. It was his first glimpse at what the traveling rock star chef lifestyle is. But at some point, doing those things under the wing of some other chef wasn't enough.
"I remember the experience of working for the first time in a two Michelin-starred restaurant. It was very very difficult in the beginning and I was the youngest one there. On the other hand, I liked that it was that hard. It almost felt like I was in the army but I was never uncomfortable. I realized that I could handle a situation like that and more. It was during those experiences when I really learned things. For example, I remember learning how to properly cut ingredients from my japanese colleagues", explains Dennis.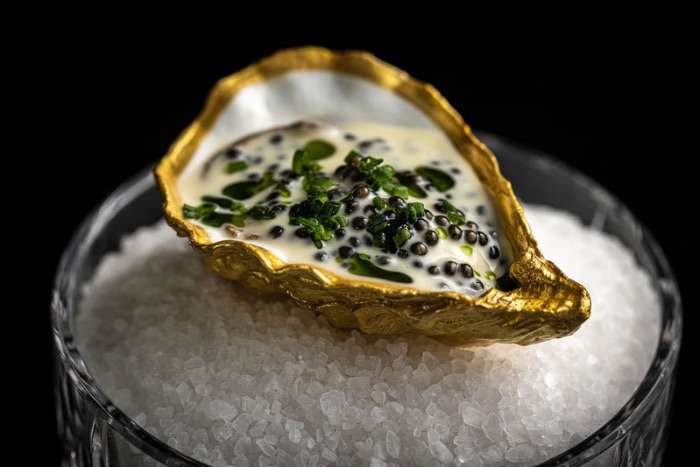 Creating Daalder
Dennis finally decided to take his own path and opened Daalder in 2016: a place where he finally could develop his own voice. "I worked really hard for many years and at one point I felt like it was just time for me to do something on my own, and be able to have the freedom to cook the way I wanted to instead of following other people's visions", says Dennis as he talks about the moment where the idea of Daalder was born. 
More than often, young chefs, no matter how much experience they got from the best restaurants in the world, struggle when the time comes to open their own place. Then, they realize how personal it is and how much more they need to look into other areas than being exceptional cooks. For Dennis, the priority was to let go of all the rules and guidelines and find his own personal style of cooking. It was his time to seek, find and show his true self. To create a new reality, like Oscar Wilde said, by expressing himself.
It all started in a smaller and way less colorful place than today, in the Jordaan-district of Amsterdam. A blank canvas that helped the young chef realize his vision, create his own culinary language and gain the self-confidence needed to leave his comfort zone, let go of the dishes and ways of his former mentors and create something new. In that small restaurant, Dennis won his first Michelin star in 2021 and just some months after, moved his etablishment to its current hotspot location in Het Sieraad on Postjesweg in Amsterdam-West.
"I think that the second Daalder was an expression of myself and what I thought was the restaurant of my dreams at that point in my life. It really is a personal thing, to open a restaurant and to create a whole concept and experience for guests to come and enjoy. You have to put yourself out there to make it unique, and I think we did" tells Dennis. Less rules and more fun, less white and more color, less labels and more freedom. A new space with a bigger kitchen, a cooler space and more room, for the potential to become reality and for guests to ultimately have a better experience. That was the intention behind the move.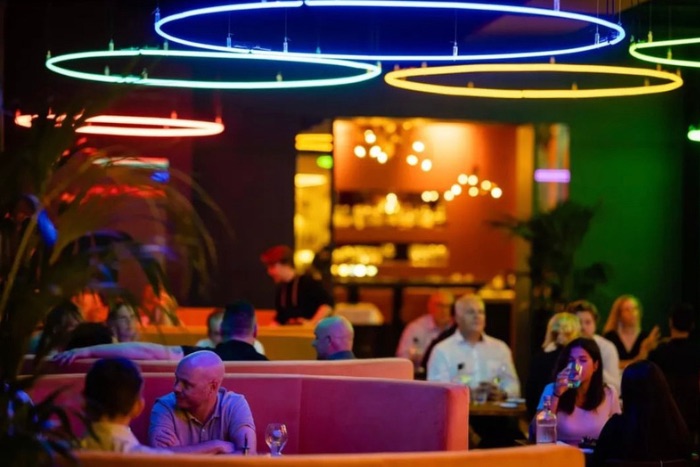 The Star Shower
For a chef, receiving a Michelin star is probably the moment that they will always remember. For Dennis Huwaë, it all started in a shower. He was taking a such with his music on and kept getting calls from his best friend, who's also a chef. Dennis interrupted his shower concert as the calls wouldn't stop so he finally picked up to a screaming voice saying: "Come downstairs in five minutes. I'm picking you up now." Dennis rushed, scared that something bad happened, and while he was getting dressed, his wife called his friend who told her the news.
His wife was crying. Huwaë lost it. He thought something terrible had happened and then his wife told him to sit down. "We need to have a little talk and then I'll let you go. You're going to get some great news tonight and I'll give you the first one. Don't worry. It's only great news. The first one is: I'm pregnant." said his wife. His life was upside down and he was the happiest he'd ever been. For a moment, he forgot that his best friend had some great news too.
Minutes after Dennis's friend arrives and shouts. "You're getting a star!" Dennis thought he was referring to the baby, but then he clarified. "You're getting a Michelin star Dennis!" It was the most incredible day in his life and a hard story to top if you ask me. Of course he then went straight to Daalder to celebrate with his family and his team, which to a chef, are basically the same thing.
See Also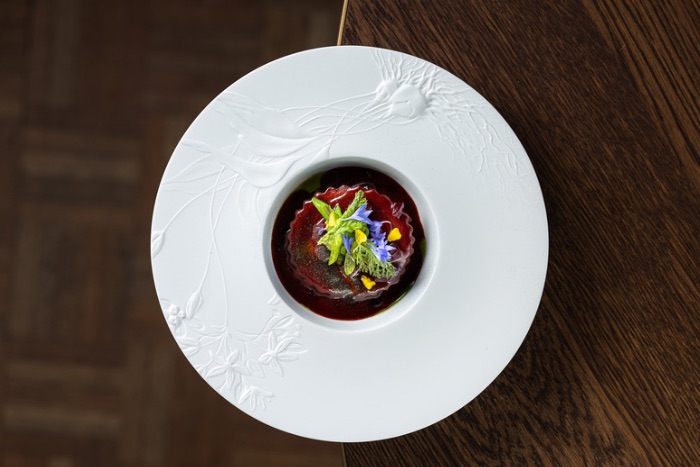 The Flavors Of Dennis 
Inspiration comes from the most unexpected places for Dennis and he describes himself as a very curious guy who's extremely interested in all foods, ingredients and flavors from all over the world. One of the things he admits to enjoy the most is mixing. Mixing cultures. Mixing influences, like his grandmother used to do for those Dutch-Moluccan feasts he could never eat as a kid. Mixing unsuspected combinations of ingredients to create something new. 
When he talks about it, it almost feels as if he was trying to get even for his limited childhood. He wants to try everything he couldn't and mix intense flavors and ingredients with no limitations or rules. The result is an explosive menu with a very unique and personal point of view. His flavors are simply fun. The whole thing is a fun, relaxed and unexpected experience. 
"I never want to set boundaries for myself when it comes to cooking and I find it hard to limit what we do in Daalder to a specific type of cuisine or product. I think that my curiosity wouldn't allow me to do that, doing only French cuisine, Dutch cuisine, or Moluccan cuisine. I'm really interested in all foods and flavors from all over the world and I always end up taking ideas from everywhere and mixing them in my mind when I have to create a new dish. So why limit it? There are no rules at Daalder other than working towards being the best." tells Dennis when describing his cooking style and philosophy behind his restaurant.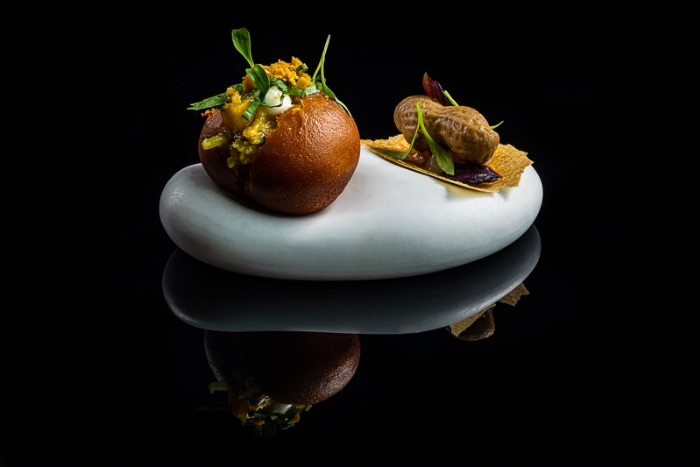 The Dishes
The constant is always flavor but the menus change and evolve every season as they reflect the present of Dennis and his ideas. Each dish is like a polaroid of where the he is right now in life, sometimes more colorful, other times more serious, but always very flavourful, and of course, with top quality seasonal produce. "I want to stay close to who I am. I feel like I create dishes by making crazy combinations in my head all the time. I think about how a fish would taste with a fruit, what type of sauce I could make, how to cook it, and so it begins and I can't stop until I have a dish. It's difficult to explain because it is all very organic to me", explains Dennis about his creative process.
A dish that really represents Dennis and his style is the Saté Kambing. The peanut sauce that his grandma used to make is now shaped as a real peanut and just a little bit bigger in size. This preparation contains no fewer than 30 different ingredients. For the peanut itself he uses a lot of fragrant cumin seeds, galangal and coriander seeds. And in the salad you will find cucumber, carrot and radish marinated in a sam-tom dressing for a sweet and spicy touch. An explosion and a playbull amuse bouche that sets the tone for a rollercoaster menu. 
Another example could be the hamachi with green apple, tofu and shiso. One of the very few things that Dennis could eat as a kid was tofu and for that reason he has a special place for that ingredient in his heart. For this dish, the chef changed the traditional Moluccan way of preparing tofu for a siphon version. Same flavors, different texture achieved by technique. He combines it with the marinated fish with a dressing of shiso and coriander with an ice cream of yuzu and a gel made of jasmine rice and a touch of wasabi. For Dennis, it's maybe one of the best dishes he's ever made. All the flavors you would ever want in one bite.
Dishes like the ravioli with beetroot, cod and green peas; the pigeon with green olive, pistachio and kumquat or the lamb with carrots, kumquat and colombo spice are just a few examples of the unique voice Dennis has in Dutch gastronomy. Not to mention his cold version of the famous Stroopwafel, the must have dessert at Daalder. Those explosive flavors, combined with a colorful and art filled room and a team that without taking themselves too seriously, show a new, exciting way to enjoy fine dining, in contrast to the very reserved chef, are what make Dennis and his work at Daalder an example of "life imitating art".
DAALDER
Postjesweg 1, 1057 DT, Amsterdam The Netherlands
daalderamsterdam.nl