New York has tons of great hotels to choose from, but these two newer Moxy properties deserves your attention. You'll find great views, good food, cozy rooms, exciting entertainment, a strong commitment to hospitality. The hardest part will be choosing which one to explore first.
Suppose you're a visitor with limited time in New York and enjoy great food, live music, spectacular New York views, and dancing until the wee hours of the morning. In that case, you have two newer Moxy Hotel options to consider. Decide if you want to stay at the Moxy Lower East Side or Moxy Williamsburg in Brooklyn; the two properties are dissimilar but emanate the same youthful and vibrant Moxy atmosphere. At the Moxy LES, you'll discover a moody piano lounge, a modern Japanese restaurant, a stunning rooftop bar with expansive city views, and an underground nightclub under one roof.
The property feels brighter and more contemporary at Moxy Williamsburg, with locals wining and dining alongside you. At this hotel, there's plenty to explore. Look forward to eating at the beautiful Israeli restaurant from the Levant region, and you'll also come across a rooftop bar for incredible views of Williamsburg Bridge and the Manhattan skyline while sipping on a Southeast Asian tropical cocktail. Before calling it quits and going to your room, head downstairs to an exciting nightclub founded by an award-winning team behind some of New York's best clubs.
Whether time is short or not, either Moxy Hotel property you choose will be an energetic, vibrant New York adventure with everything you need right at your doorstep.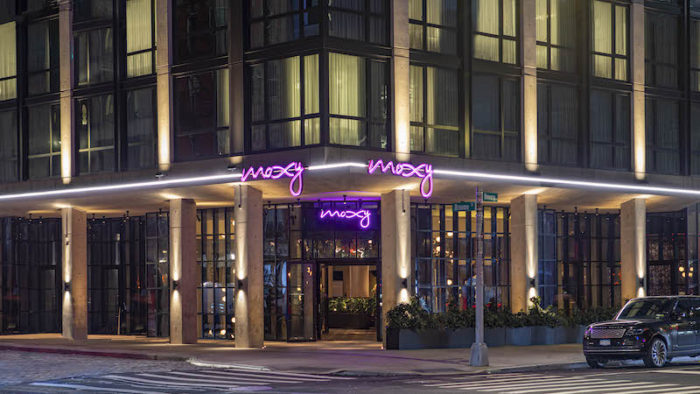 Moxy Hotel LES
Moxy Lower East Side opened in October 2022 in a neighborhood filled with culture and entertainment. You barely need to leave the property with its five drinking and dining establishments. The Moxy LES channels a modern funhouse vibe with plenty of entertaining and culinary surprises tucked inside. As for the rooms, they are bright and playful, inspired by the circus and old-time menageries that once lined the Bowery. The space-optimized rooms are practical, with king beds, strong rain showers, and superb city views.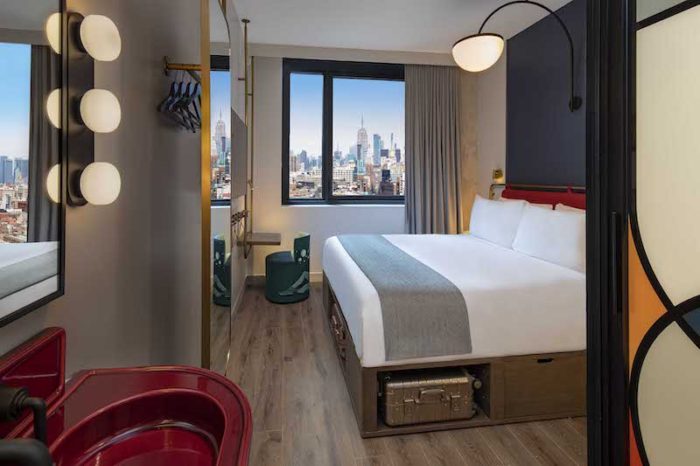 Tao Group Hospitality's Japanese restaurant, Sake No Hana, is nestled in the hotel's basement. The space is dramatic as you walk down the spiral staircase; each step brings you closer to Japan with its unique tapestries that look like kimonos. The extensive beverage menu is whimsical, with Instagrammable drinks and a unique variety of sake presented by a sake sommelier who guides you through a fantastic Sake adventure.  Start with a fun cocktail like the Harajuku Icon served in a large golden goblet and tastes like a Japanese piña colada but with vodka, Japanese liquors (iichiko shochu, soka), coconut milk, and galangal, which tastes citrusy and limey.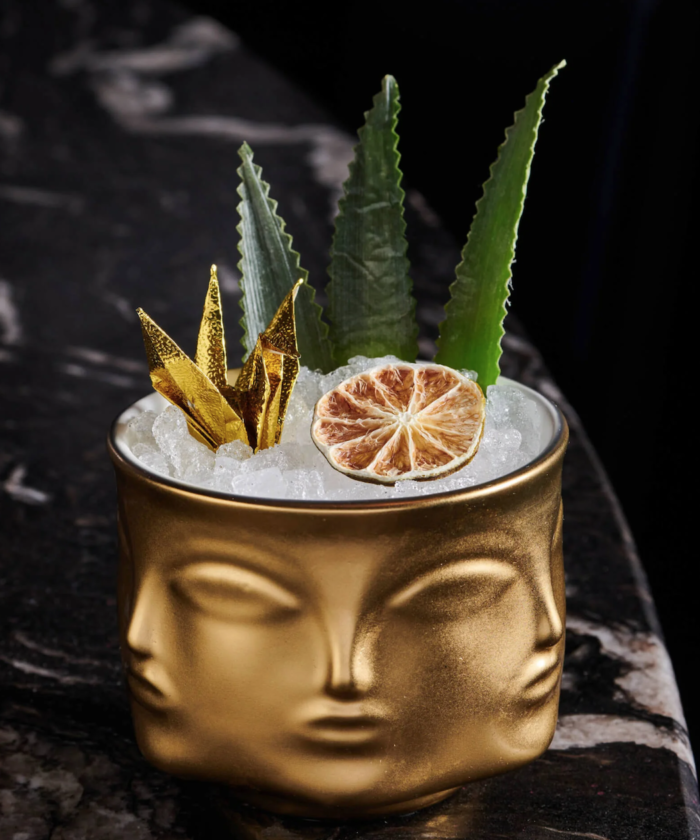 As for the meal, various dishes consist of grilled teppanyaki, yakitori skewers, Wagyu beef, and creative sushi rolls. With many fascinating options, standout dishes included spicy tuna tartare with Kaluga caviar and rice crisp. Or try the crispy soft-shell crab served with a smokey daikon sauce, excellent for dipping. As for sushi, there is no wrong choice. Whether you choose nigiri or sashimi, the variety of fish options tasted so fresh and melted in your mouth. For something unique, order a temaki or two for an untraditional "hand roll" option that looks like a sushi taco. The unexpected crunch is nice, but I'd stick to the traditional sushi rolls. For the second act, featuring noodles, rice, and entrees, the Short Rib Yakimeshi stole the show. It's a Japanese version of fried rice, and this one has bone marrow, which is served table-side; mix it all together with the rice and short rib for a decadent bite. And for matcha lovers, dessert is a must.  Sake no Hana has a delightfully decadent Matcha Tiramisu with fresh strawberries. A complete taste of the moist matcha cake, luxurious matcha cream, and strawberry with a sip of sweet strawberry sake will have you returning to this cool, swanky restaurant week after week.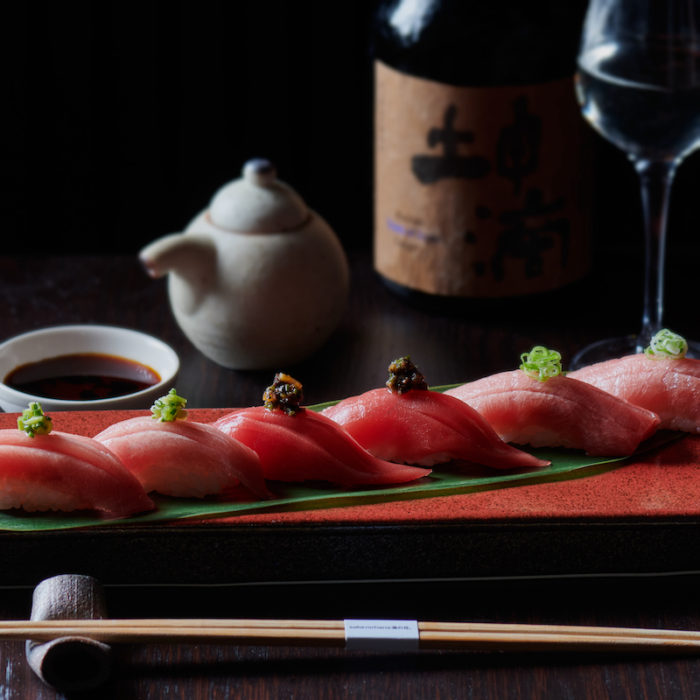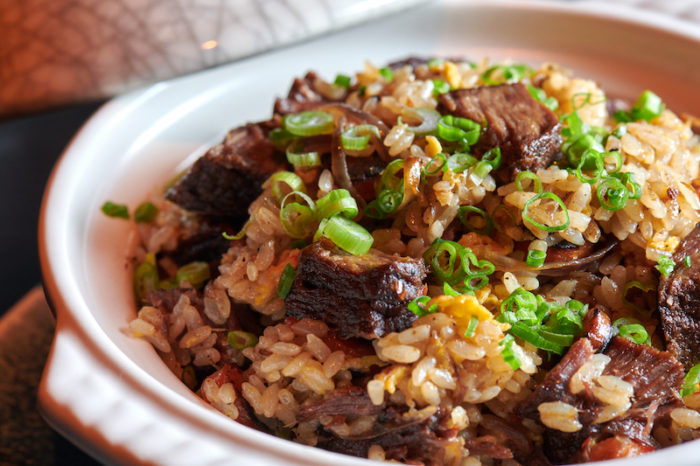 Speaking of cool places, the Moxy LES adventure continues. Meander to the rooftop and walk into the Highlight Room during sunset hours before your dinner at Sake No Hana. You'll be sixteen stories above the ground, with breathtaking show-stopping views. Order an aperitivo at the bar and take in those sweeping New York City views that never get old.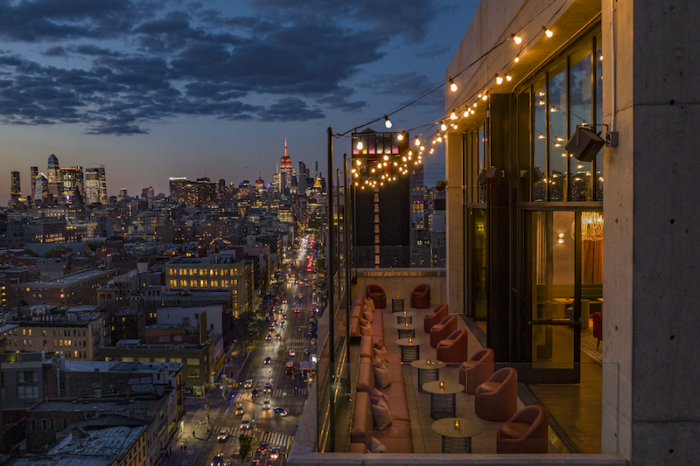 After dinner, stroll back up to the lobby and walk around the corner outside to the intimate piano lounge, Silver Lining, which has its entrance on Broome Street. Watch the piano player perform, or maybe there's a live band, but either way, sip on a martini in the dark and sexy space and enjoy the performance. Silver Lining exudes a sophisticated vibe and is a foolproof date spot for hanging out with friends. And if you want to keep the night going, check out the alley behind the hotel, and you'll find the lively nightclub, Loosie's. Doors open at 11 p.m. until 4 p.m. on Thursdays, Fridays, and Saturdays. Get ready to have fun, drink, and dance the night away.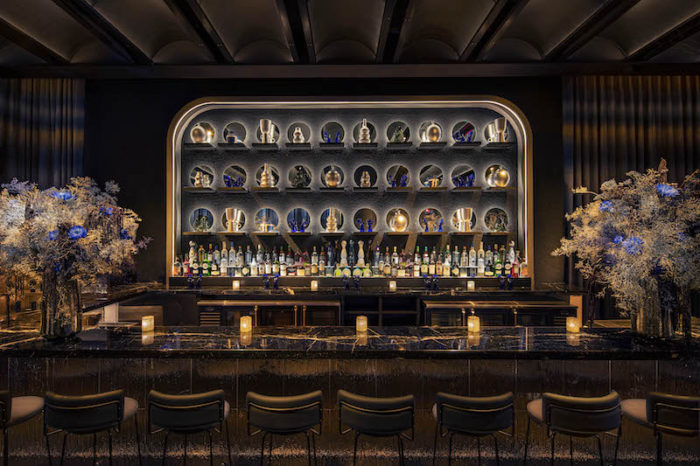 Moxy Williamsburg
If Brooklyn is more your speed, consider staying at The Moxy Williamsburg, which debuted earlier in March. In contrast to Moxy LES, this Moxy hotel has more of a contemporary and free-spirited ambiance. In the heart of town, the hotel possesses twenty-foot high ceilings and the wonderful natural light is welcoming and shines on Bar Bedford, the lobby bar, and an all-day café. It's an optimal space to co-work with a cup of coffee or to bring a corporate group here for drinks after work. As for the rooms, the design emphasizes the room's functionality, like a desk that folds down from the wall to provide a workspace if needed. The huge windows in the room accent more of the New York skyline. The layout is similar to Moxy LES, both warm and welcoming with its burst of color, exciting artwork, and peg boards instead of closets to hang clothes, which gives it a functional but relaxed Moxy feel.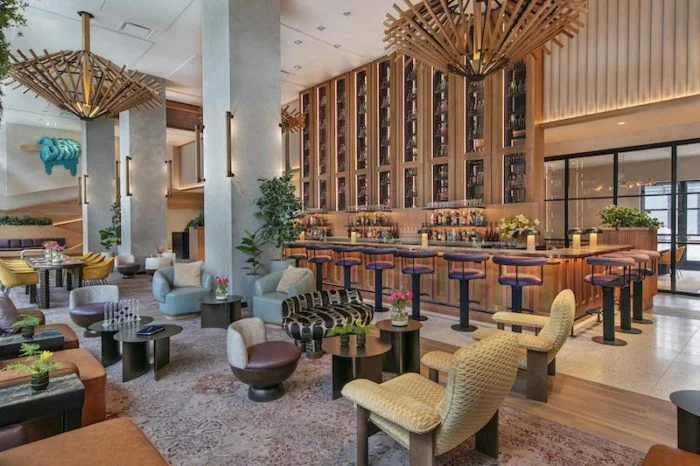 Look forward to a great meal at Mesiba at the Moxy Williamsburg. The restaurant pays homage to the flavorful cuisine and celebratory "breaking bread" culture of the Levant (Eastern Mediterranean) region. The rounded bar made of coral-colored marble is a showstopper, and the warm wood accents intertwined throughout the restaurant with the addition of Hollywood-style booths and an open floor plan make it a striking space.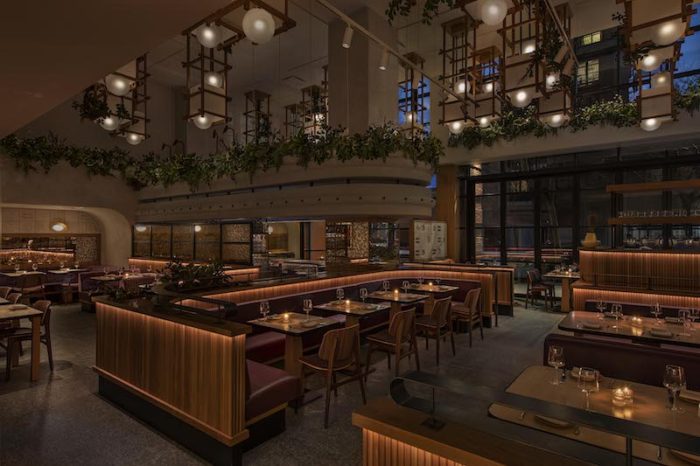 Mesiba means "party" in Hebrew and is the ideal place to throw one. Mesiba is the place to bring friends and family to enjoy a celebratory meal. Chef Eli Buli serves traditional dishes with a contemporary twist, paying homage to Tel Aviv's high-spirited energy.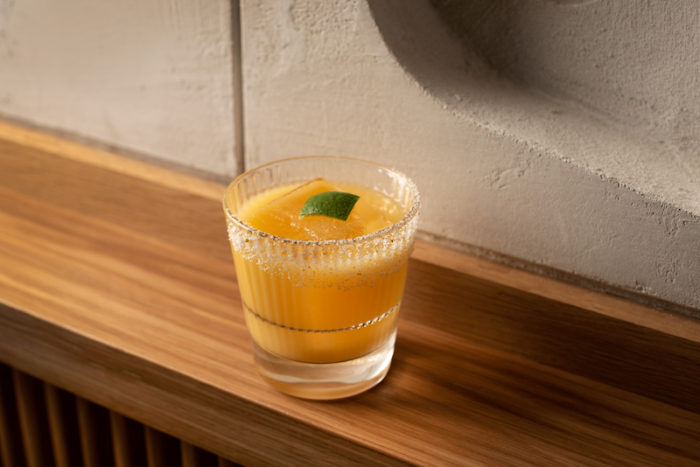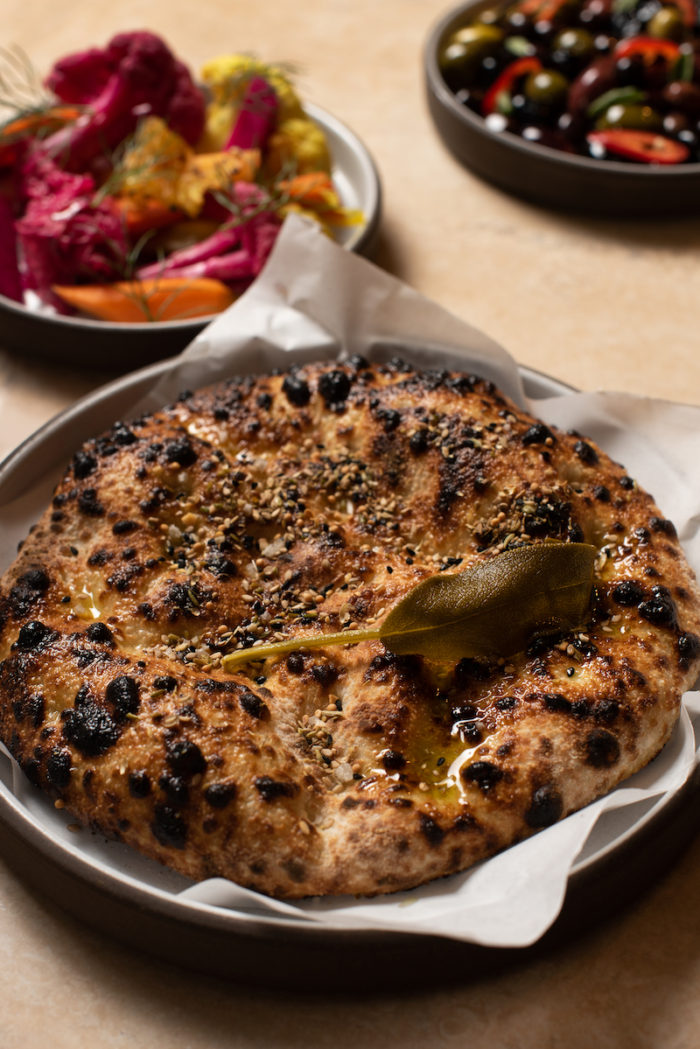 To start, choose one of the unique cocktails like the Mish Mish with Patron Blanco, ojo de tigre, Grand Marnier, kefir, lime, and fennel pollen salt for a tart palette cleanser. Next, order the Frena Bread, the fluffiest flatbread that is puffed up like a balloon when it hits the table; a bite with Middle Eastern herbs dipped in a delicious sour cream and spicy shatta, which is like a spicy hot sauce of jalapeño is the ultimate precursor to the meal. Your biggest challenge will be not to devour everything in 2 minutes. Then, go for a lighter dish like the Fluke Crudo swimming in a red cardamom and carrot consommé broth, bringing a peppery flavor to the fish and a fabulous dipping sauce for the Frena bread.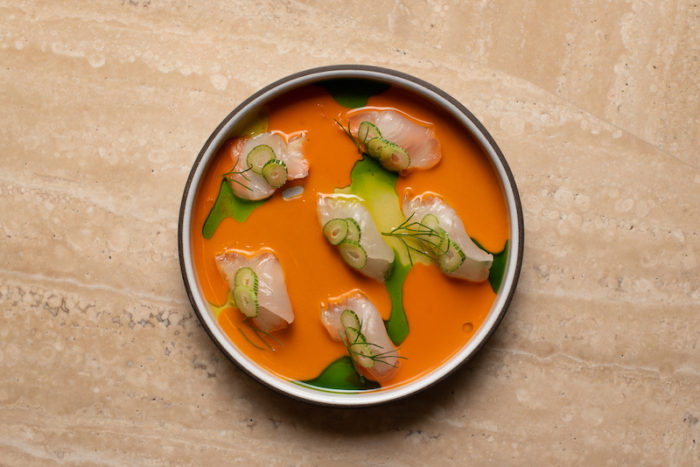 Since Chef Eli showcases Eastern Mediterranean food, seafood felt like the right choice, and it absolutely was. You cannot leave this restaurant without ordering the crispy whole fish, and it's a shareable size that can easily be shared with two people. Enjoy the fried fish with sauces like carrot zhoug, a spicy cilantro dip, and tabila sauce, which tastes bright and citrusy. For the perfect bite, make a lettuce cup taco with the fish, herbs, and spices;  it was one of my favorite dishes. If you have room, another standout dish consists of the head-on prawns risotto. The food runner grated a traditional yogurt stone on top for an unexpected tang that balanced the creamy risotto well. Most of the menu played with herbs, sauces, and dishes I'd never tried before, making it an extremely memorable meal. For those with a sweet tooth, order Mesiba's version of an espresso martini with labneh foam for a great twist on the classic while you decide on dessert. If you don't like your dessert too sweet, Knafeh is a Middle Eastern dessert with filo dough crust, cheese, and rose water flavored simple syrup and then topped with pistachios.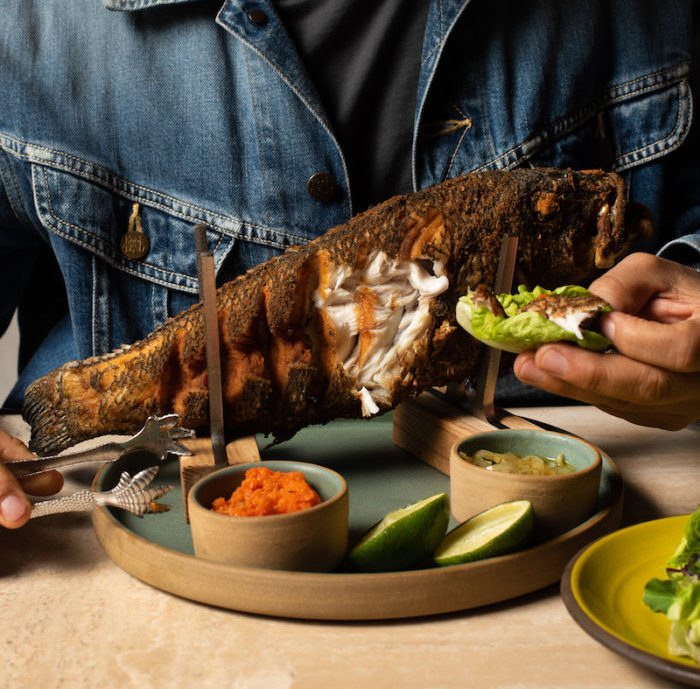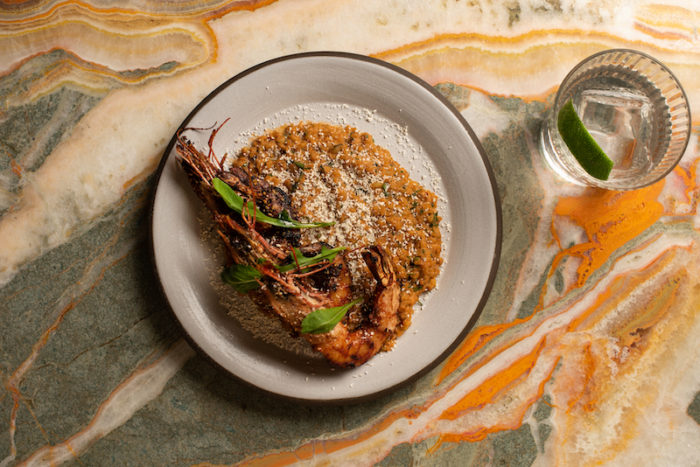 Don't stop there. Before calling it quits and returning to your room, take an elevator to the rooftop bar called Lillistar for a nightcap and some of the best views of Williamsburg Bridge and Manhattan. You're transported to Southeast Asia and can enjoy various tropical drinks.  If you get a second wind, the Jolene Sound Room is an intimate space inspired by mid-century recording studios; enter through a separate entrance on Bedford Avenue and finish the night dancing to local and global DJs.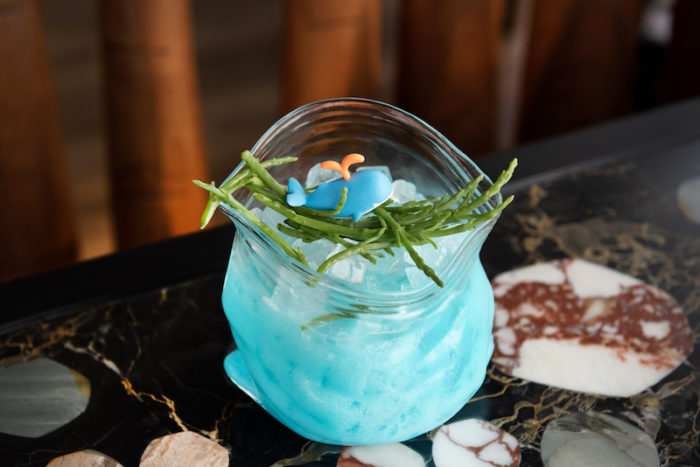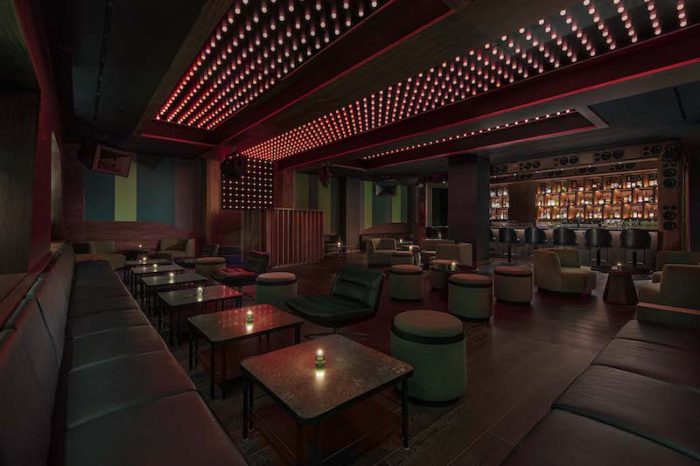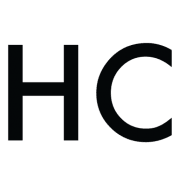 Keyla Vasconcellos
Keyla Vasconcellos is a passionate, freelance writer regarding all things food, lifestyle, and travel. She is usually searching the streets of Los Angeles for the next great bite, or she is shooting food photography for restaurant clients, or daydreaming about her next travel destination.