At Nar, smells of sizzling kebabs and hearty stews warmly greet you from the moment you step in. The snug interior conjures images of the Aegean Sea, transporting guests to far-away Mediterranean coastlines.
When I found myself seated at a restaurant in the heart of Manhattan surrounded by only foreign tongues and no English, I knew I was in for some really good food. Over the years, I've schlepped to corners of South Brooklyn and crevices of Queen's, hopping on trains, buses, and ferries (sometimes all in one trip) in the name of authentic cuisine. You know the feeling, wanting to taste the real thing and not a watered-down version of it. When a new Turkish restaurant opened on 20th and Park Ave, I had to read the address a few times before realizing just how close to home it really was.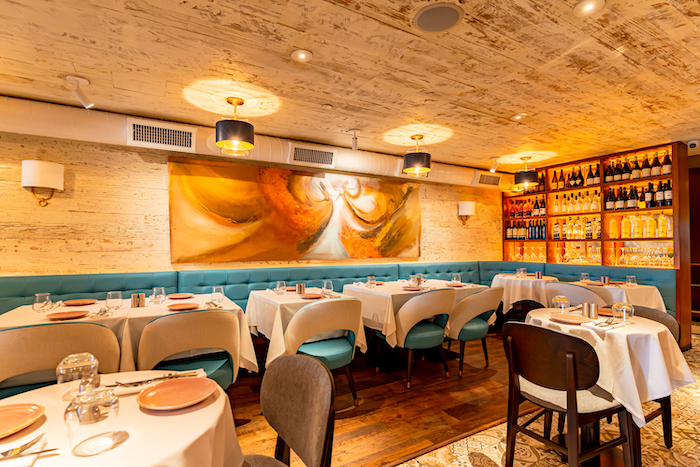 At Nar, smells of sizzling kebabs and hearty stews warmly greet you from the moment you step in. The snug interior conjures images of the Aegean Sea, transporting guests to far-away Mediterranean coastlines. Soft lighting and cozy wooden walls create an atmosphere reminiscent of laughing in a friend's basement. It strikingly felt like everyone lingered a little longer here than most Manhattan establishments that shoo you away after 90 minutes.
The Sweets
While it's unconventional for Honest Cooking to kick things off with the dessert menu, we would not be living up to the 'Honest' in our name if we did otherwise in this case. Desserts at Nar are quite honestly show stoppers. With a menu of creations scarcely found anywhere else in New York City, the roster of sweets alone is well worth the trip. I'm talking about incredibly local items like the Cennet Camuru, or "heaven's mud." Made with shredded kataifi pastry and pistachio, and topped with house-made vanilla ice cream, the combination will be like nothing you've tasted before. Another one worth trying is the Kazandibi, a dessert made from chicken breast, with its origins stemming from the Ottoman Empire. Stay with us — the dessert is a creamy and caramelized-like pudding that's cooked until burnt on the outside, and still runny on the inside. If you aren't feeling as adventurous, the Citir Baklava is always a familiar classic to indulge in. Who says you can't have dessert first?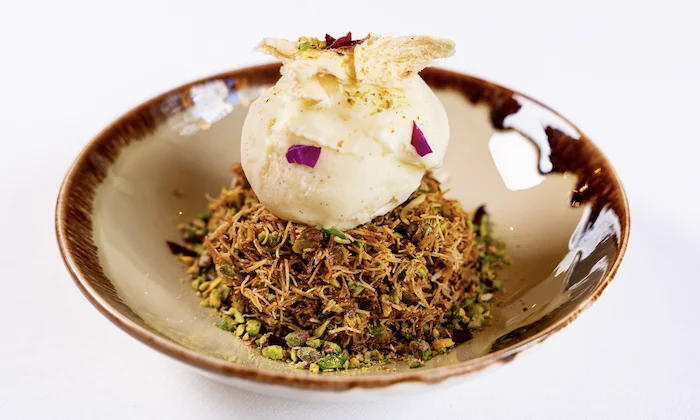 The Starters
Appetizers range between hot and cold options, and we suggest trying both if you have room for it. Start with the Grilled Iriskit and Hellim Cheese – this beef sausage, native to Gaziantep, is caramelized with maple syrup and orange juice and served over grilled halloumi cheese, with tricolor cherry tomatoes decorating the cast iron skillet. One thing NYC-based restaurants do well is play on your traditionally known plates. Nar's take on the Shakshuka is another one worth trying because it isn't as tomato-forward as your usual shakshuka. The unexpectedly cold dish spotlights diced potatoes, zucchini, and eggplants formed into a dome that sits on top of a house-made yogurt and tomato sauce. Served alongside a basket of pita, the chefs recommend mixing the dish thoroughly before you dive in.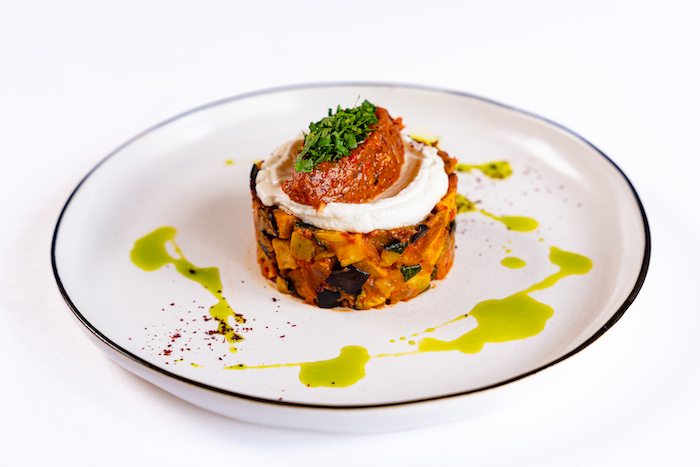 The Mains
Main courses follow a flavorful suit with the Nar Kebab made of minced lamb and beef, then grilled over a natural olive tree charcoal grill. The skewer is plated alongside maras peppers, smoked yogurt, and roasted tomatoes. The dish boasts a medley of flavors, spices, and aromas. Or opt for the Sultan's Bliss, a braised lamb shank that's slow-cooked for three hours to melt-in-your-mouth perfection. The lamb sits atop an eggplant caviar and white bean purée, adding to the layers of texture.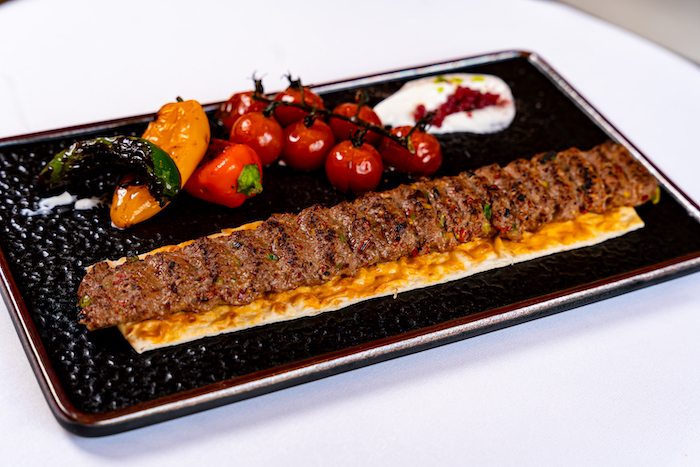 The Drinks
Cocktails here pay homage to traditional Turkish ingredients, encompassing everything from Turkish Delight to maras peppers. For one, you cannot leave without trying a sip of Türkiye's national drink, Raki, featured all over the cocktail menu. The Raki Mule, made of distilled grapes and paired with mule classics like ginger beer and lime, is a perfect complementary drink to each dish mentioned above. The Orient Express is an option that combines brewed Turkish tea, gin, lime juice, and raspberries into another refreshing drink. If wine is more your thing, the restaurant offers more than 100 wines, many from Mediterranean producers spanning Spain, France, and Türkiye.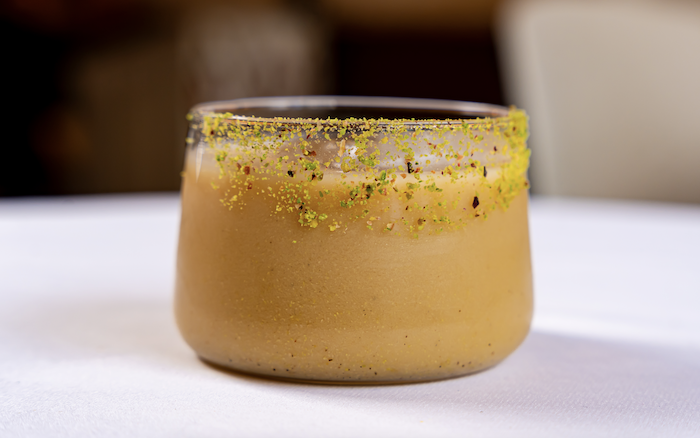 As it turns out, the shared experience of bonding over rich mezze platters and decadent layers of baklava transcend all language barriers, uniting all of us… even in the concrete jungle.
***
Nar
Website
34 East 20th Street, New York, NY 10003